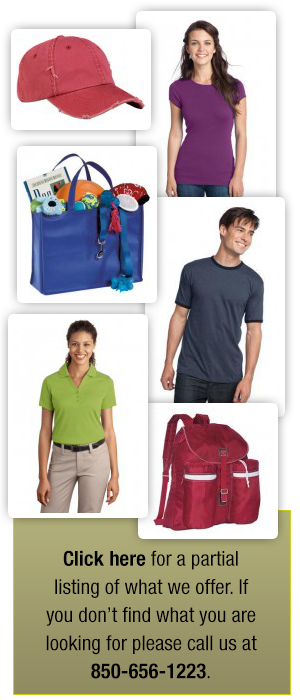 What we do
Products & Services - What We Can Do For You
Screen Printed Shirts
Don't just wear any ol' T-shirt. Using the latest in screen printing technology, our shirts are printed on the industry's best classic apparel – such as Hanes, Gildan, Bella, Rabbit Skins, American Apparel and District Made. Our in-house art team can create a unique design perfect for your event or company. Or work with an existing design to make a top-quality shirt your customers, staff, friends and family would be proud to wear.
Embroidered Shirts
Dress it up or down in premium essentials that fit in more ways than just your budget. We work with brand leaders in fine collared shirts, including Devon & Jones, Nike Golf, Outer Banks, Harriton, Blue Generation and Eddie Bauer.
Promotional Products
Make sure your logo is front and center at your next meeting or event. We have all the marketing staples that your audience will want to take home and use. Gifts galore, from headwear to tote bags, we can provide what you need to get noticed.
One-Stop-Shopping
Have a new company? Hosting an event? Need to outfit an entire audience with shirts and swag? RaGZ is your one stop shopping solution. We'll put together an entire package that works to reinforce your brand or message and stays within your budget. From shirts to shot glasses, pens to pins – we have the tools to build you a campaign that is sure to make a good impression.